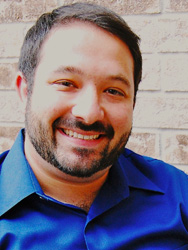 "Papas was delighfully ridiculous as Magnifico, bringing vocal power and finesse to the role."
-Milwaukee Journal Sentinel
Highly praised for his "rich voice and comic timing" (St. Louis Post Dispatch), Andy Papas has been well lauded in performances across the country. Born and raised in Boston, Andy joins Opera Saratoga for their summer season, covering the title role in Falstaff, singing Bugs/Gent in The Cradle Will Rock, and performing in 2017 Season Concerts. After Saratoga, he will sing his fourth Magnifico, this time for Berks Opera's production of La Cenerentola. Andy returned to St. Louis in summer 2016 as Ko-Ko in The Mikado for Union Avenue Opera, where the St. Louis Post Dispatch lauded his "excellent comedic effect...and unusually fine voice for a patter-song specialist." Earlier this year, he was with The Boston Youth Symphony Orchestra as the Captain in Eugene Onegin.
Andy made coast-to-coast debuts during 2015-16 season, broadening his growing crossover repertoire. With Fiddlehead Theater Company in December, Andy sang the hilariously flamboyant French gourmand Chef Louis in The Little Mermaid, where ArtsImpulse applauded his "unexpectedly brilliant performance [that] brought the crowd nearly to its feet. Andy was in Los Angeles in April '16 in a comic double-bill of Mozart's The Impresario and Salieri's Prima la Musica e Poi le Parole with Pacific Opera Project, singing leading roles in each. In March 2016, he was the comically stuttering Hans Wagner in Evangeline - The Belle of Acadia, with The Longfellow Chorus of Portland, Maine. For Winter 2016, he recorded the role of President Nixon in Roger Rudenstein's Faustus, and sang The Herald in Verdi's Otello with the Boston Youth Symphony Orchestra.
Fall 2015 marked Andy's Actor's Equity debut with The Lyric Stage of Boston in their "hit" production of My Fair Lady. He also returned to Saint Louis in his debut with Winter Opera St. Louis, as the heartbroken jester Jack Point in Gilbert & Sullivan's Yeoman of the Guard. Of his performance as Point, The St. Louis Post Dispatch said, "Papas caught the role's mixture of humor and pathos, and sang with a beautiful baritone."
Andy spent the 2014-15 season singing the evil stepfather Don Magnifico in La Cenerentola from Coast to Coast, with performances in Seattle, Milwaukee, and Maine. After singing Magnifico for Skylight Music Theatre in September, he followed up with his west coast debut as Magnifico for Skagit Opera of Seattle in March, and in July for The Bar Harbor Music Festival. In April 2015, he added to his list of World Premieres, performing Stephano in Joseph Summers' The Tempest, with The Shakespeare Concerts of Boston. Andy made his debut under the baton of Gil Role as Peter Simple in Vaughn-Williams' Falstaff tale, Sir John in Love, with Odyssey Opera in May. He returned to the Pacific Northwest in early June for the iconic baritone solo in Beethoven's 9th Symphony for The Mid-Columbia Symphony. Finally, he was in St. Louis in August for a third season with Union Avenue Opera, performing Count Ceprano in Rigoletto.
In 2013-14, Andy expanded his New England footprint in his first performance in Vermont. With The Opera Company of Middlebury, Andy was Haly in L'Italiana in Algeri, where The Rutland Herald lauded his "rich voice" and called his performance "a riot". With The Reagle Music Theatre of Boston, Andy made his professional Musical Theatre debut as Avram in Fiddler on the Roof. Late in 2014, he performed his signature Gilbert & Sullivan roles, The Major General in The Pirates of Penzance and Ko-Ko in The Mikado, both for Opera Providence. Additionally, he toured throughout the Great Lakes as Dr. Bartolo in The Barber of Seville with Opera for the Young.
2012-2013 included performances in both the Midwest and New England. Andy was the Tsar in the world premiere of Polina Nazaykinskaya's The Magic Mirror with Juventas New Music Ensemble and also for The New York Fringe Festival. In 2012, in his hometown debut, Andy was Schaunard in La Bohème with Boston Opera Collaborative. In February 2013, Andy sang a concert of Opera and Musical Theater favorites as part of the Indianapolis Hebrew Congregation's Concert Series. Prior to that, he performed the role of the Father (Pandolfe) in Cinderella (Cendrillon) with Opera for the Young. With Cinderella, Andy toured to 65 schools in four states in the debut season of the show. In November 2012, Andy charmed New Hampshire audiences as Ko-Ko in The Mikado with Raylynmor Opera. Also in November, Andy returned to St. Louis to perform in the 2012 Benefit Gala with Union Avenue Opera. He was last seen at Union Avenue Opera in 2011 in the role of Pong in Turandot, under the baton of Maestro Scott Schoonover. Praised by the St. Louis press for a delightfully comedic performance, Andy also sang with Union Avenue as the Major General in The Pirates of Penzance in 2010.
In the spring of 2011, Andy joined Opera for the Young as both the Major General & The Pirate King in The Pirates of Penzance, touring to over 50 venues throughout the Midwest. Opera for the Young is a unique opera company that incorporates children into the performance at each school. The cast of Opera for the Young teaches a new group of children at each school to be the onstage chorus, encouraging appreciation for opera in a truly hands-on approach. Andy also performed both the Father & Witch in OFY's original adaptation of Humperdinck's Hansel & Gretel in 2012.
Andy was a 2011 Emerging Artist with the St. Petersburg Opera, performing Marullo in Rigoletto, Schaunard in scenes from La Bohème, and Uncle Yakusíde in Madama Butterfly. Additionally, he covered the role of Sharpless in Madama Butterfly and performed the role in several performances throughout the Tampa Bay Area. While at SPO, Andy coached with acclaimed Soprano Stella Zambalis, and Maestro Mark Sforzini.
In the summer of 2009, Andy was a young artist at Opera New Jersey, covering the role of Ko-Ko in The Mikado. He was seen in concerts throughout Princeton, NJ, performing opera and musical theater scenes as well as his original rendition of "I've got a little list".
Andy completed his Master of Music degree in Voice Performance at the University of Houston in 2009. While at UH, Andy was seen as Uncle John in the Houston premiere of Ricky Ian Gordon's The Grapes of Wrath, Le Mari in Les Mamelles de Tiresias, Jupiter in Orpheus in the Underworld and Snooks Brenner (Father of the Bride) in William Bolcom's A Wedding, all under the direction of Buck Ross. In Houston, he was also seen as the title role in Gianni Schicchi, as soloist with the Houston Ballet II, and in outreach performances of The Refuge with Houston Grand Opera. In addition, Andy collaborated with celebrated musicologist Howard Pollack, singing Junior Mister in Marc Blitzstein's The Cradle will Rock.
Prior to attending UH, Andy made his professional debut as an Apprentice Artist with Lyric Opera Cleveland in 2006. He performed the role of Redwood Son in the World Premiere of Randall Eng's Florida, and Samuel in The Pirates of Penzance.
Andy received his Bachelor of Music in Voice Performance from the University of Michigan in 2007, performing in both Musical Theater and Opera. Musical Theater role credits at UM include Charlemagne (Pippin), Old Man Strong (Urinetown), and Smokey (Damn Yankees). He studied with Freda Herseth, and coached with acclaimed composer & performer duo William Bolcom and Joan Morris.
Andy was born and raised in the Boston area, and started playing both piano and trumpet at the age of 8. He performed leading roles in musicals and plays, and was Drum Major of the Winchester HS Marching Band. In his free time, Andy enjoys skiing, traveling, and the foodie life, and owes thanks to his family, friends, and partner Chris for their love and support.